Travel
Sifnos Island : Hidden Gem In Greece
Sifnos is an island in Greece. It is part of the Cyclades island group, together with more famous islands like Mykonos, Naxos and Santorini. Boasting the typical architecture of this archipelago, Sifnos hosts whitewashed villages, over 300 churches, and lots of earthware shops. Sifnos is also somewhat of a gastronomic destination. But really, as one publication put it, Sifnos is famous for not being famous.
At 74 square kilometres, Sifnos is a relatively small island – about three times the size of Paxos in the Ionian Sea. Its population of just 2,500 is spread thinly over the island. Sifnos has some amazing sandy beaches and is equally suitable for couples and for families. Let's explore this island a little further.
Sifnos Island: Sights and attractions
One of Sifnos's charms lies in its villages. This is where you will experience the essence of the island. Enjoy cosmopolitan Apollonia, the capital of Sifnos, get lots in the narrow alleys of Kastro, and eat delicious local pastries in Artemonas.
Sifnos beaches are world-class. Where some Greek islands have to make do with pebbly beaches, on Sifnos you can feel actual sand between your toes. Take a refreshing dip at Chrisopigi Beach by the whitewashed church, have a seafood meal after a swim at Vathi Beach, or chill at the large natural bay of Kamares, where your ferry arrives and leaves.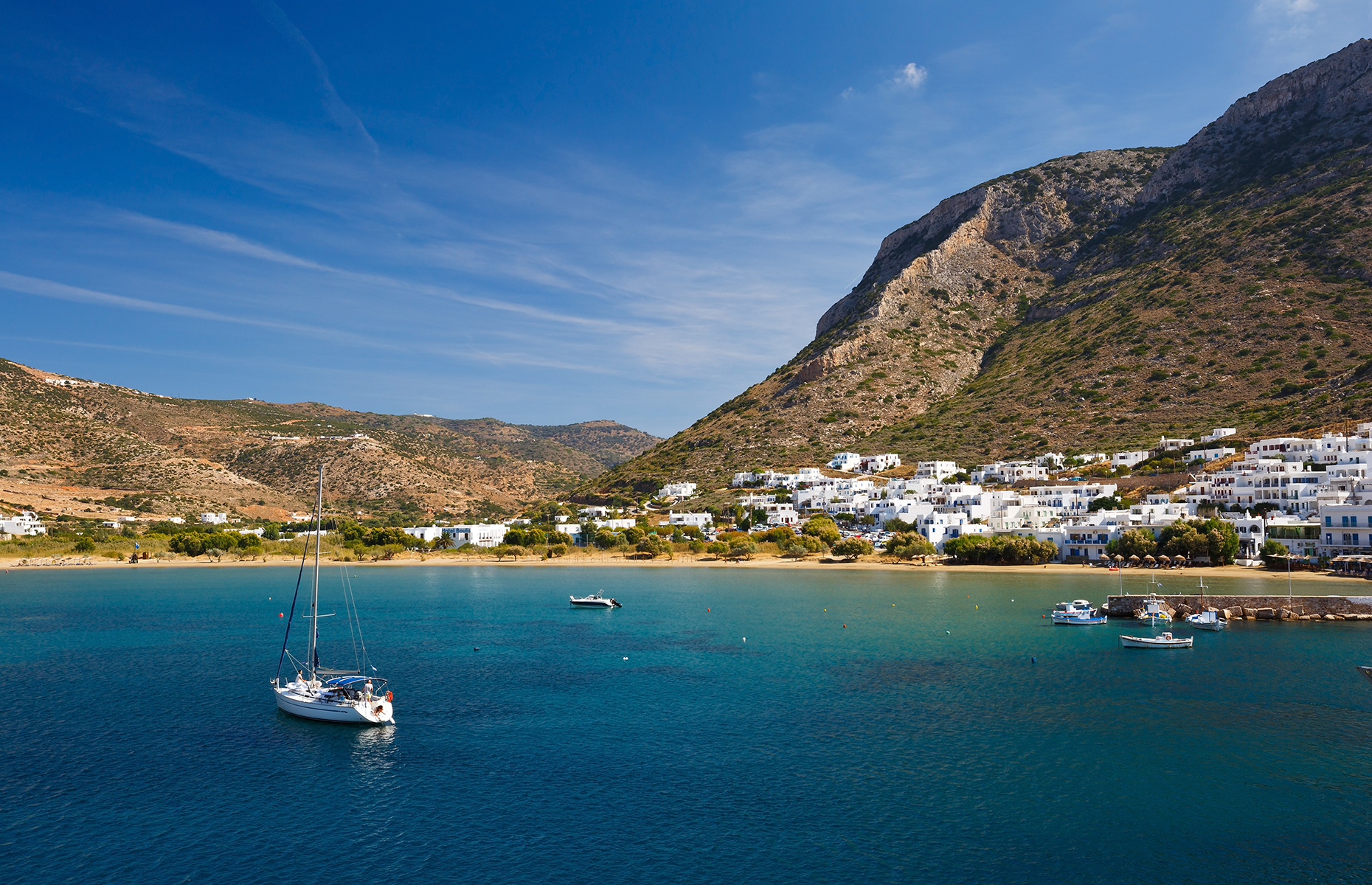 Do you like hiking? Sifnos has a network of 19 beautiful trails, with a total length of over 100 km. On foot, you can reach hidden treasures that cars and scooters can't get to. The professionally designed and way-marked trails combine to form one of the largest trail networks in the Aegean region. The ultimate aim of this network? Allowing you to explore the natural and cultural treasures of Sifnos in a pleasant, healthy manner.
Greek cuisine at its best
What Sifnos is most famous for, is its gastronomy. Famous Greek chef Nikolaos Tselementes (1878–1958) was from this island and has been the most influential figure in modern-day Greek cuisine. He published a handful of cookbooks and introduced elements like Béchamel sauce and Bouillabaisse to the Greek kitchen.
From traditional tavernas to internationally acclaimed restaurants, Sifnos draws gourmets from all over the world to its kitchens. Reportedly, Tom Hanks and Scarlett Johansson are fans of the gastronomy at restaurant Omega 3 in Platis Gialos, while Jude Law loves to party at bar Cosi in Apollonia.
Each September, the 'Nikolaos Tselementes' Gastronomy Festival draws islanders from across the archipelago, ranging from amateurs to professional chefs, who elaborate traditional and modern dishes from their islands. There is a bazaar, live music, and there are cooking workshops for kids. 
A famous Sunday lunch on Sifnos is the so-called 'two-day chickpea soup'. Preparations for this dish start on Friday night when the dry chickpeas are left to soak in water. On Saturday evening, they are placed in an earthenware pot, together with olive oil, onions, and water, to be baked overnight in a wood-fired oven. A lot of work, but the soft and smoky chickpeas, and the caramelised onions, accompanied by wine and bread, are worth the wait. 
It's hard to not eat well on Sifnos, as the locals want to live up to their reputation. To complement your gastronomic discoveries, why not sign up for a cooking workshop? Get together with other travellers, visit a market to buy ingredients, and cook a meal according to a local grandmother's recipes. Narlis Farm near Apollonia is one such place where you can take Greek cooking lessons.
The best time to visit Sifnos
Sifnos has a Mediterranean climate, with long, hot summers and mild, humid winters. To enjoy Sifnos's beaches, the best months to visit are between May and October. This is when the water will be at its warmest, and when most local businesses will be open. If you can afford the luxury to avoid the school holidays, you enjoy the beautiful weather without the crowds.
Read more about "Beaches On Paxos Island".
How to get to Sifnos?
Sifnos Island has no airport, which means that the only way to get there is by boat. If you're not lucky enough to have your own yacht, the ferry is your mode of transport. Aegean Speed Lines departs Athens five times per day and the travel time is around 3 hours on the high-speed ferry. Other, slower ferries may take up to 8 hours to reach Sifnos from Athens, with stops at islands like Milos, Serifos, Kimolos, and Kythnos. This means Sifnos can perfectly be included in island hopping itineraries.
Transport on Sifnos
As with many Greek islands, the best way of getting around Sifnos is with a hired car or scooter. This gives you the opportunity to explore at your own pace. You can either rent one for a few days of sightseeing, or get one for the whole duration of your stay, so you can be totally spontaneous.
Alternatively, there is a taxi service, as well as a public bus service. This bus service is more frequent during the summer months, with stops at the more tourist-friendly destinations, while the winter service tends to cater more towards locals.